UKC Group Placing, AKC Bred-By Exhibitor Group Winning
AKC GCH, UKC CH FoxPoint Maetoll Lollipop Guild, TKI RATN DCAT NW1 SCN SIN SEN


"Munchie"
2022 UKC #6 Toller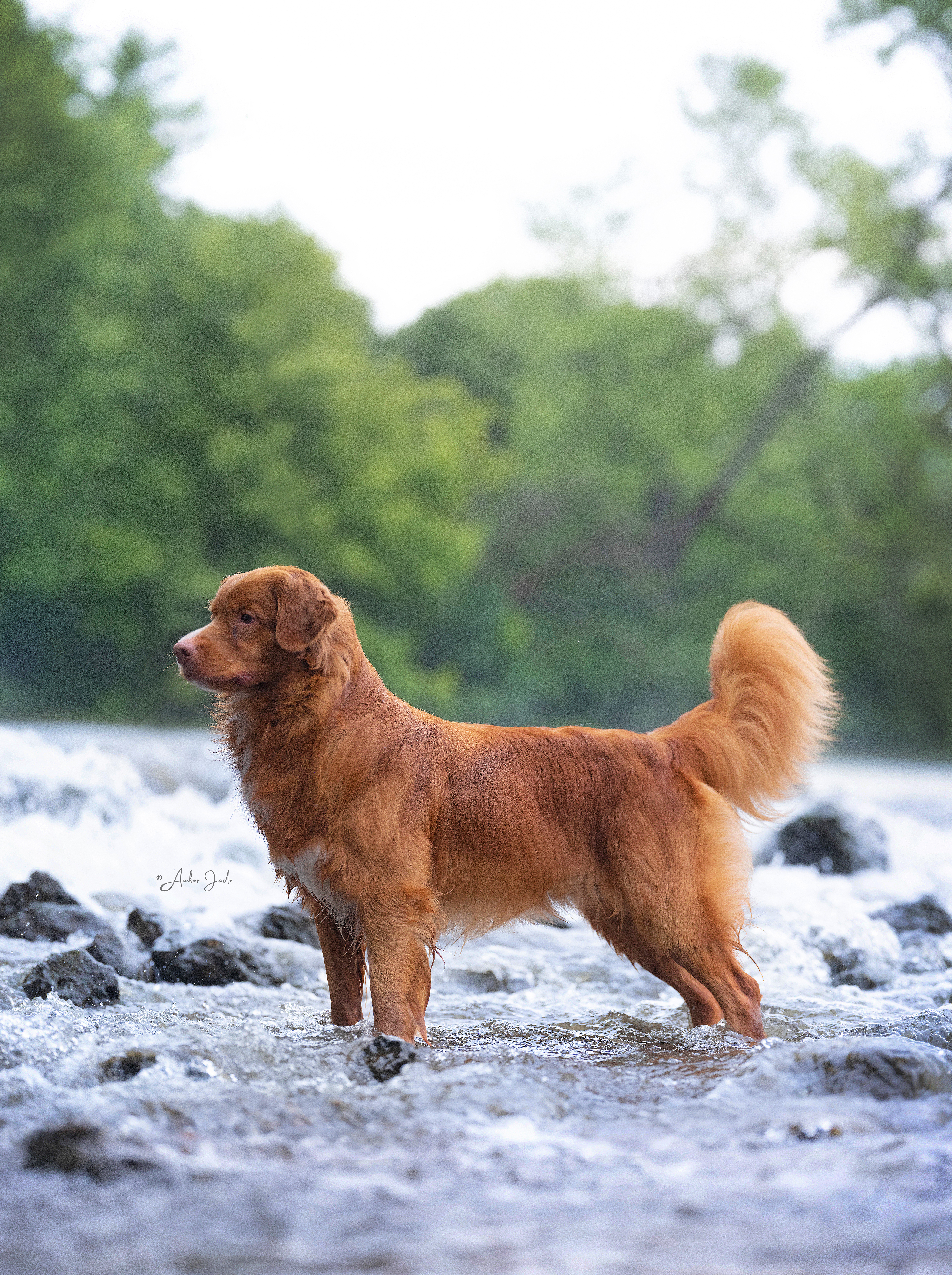 Sire: HR AKC GCH/NSDTRC CH Foxvale's And The Story Continues OA NAJ SH RAE CDX GO WCX SS SG VCX TT
Dam: AKC GCHB, UKC CH Maetoll's Bad Example for FowlShot, CGC TKI RI BN BCAT RATN
Bred by: Kelly Schur & Amanda & Michael Eakins
Munchie is from our April 2020 Saga x Pistol "Wizard of Oz" litter. Showing a lot of promise for biddability and drive to learn and work early on, Munchie earned his Trick Dog Novice (TKN) title at just shy of 13 weeks old! In his first weekend of conformation, Munchie earned Winners Dog for a four-point major from the Bred-By Exhibitor class. He completed his AKC championship from the Bred By Exhibitor Class in just 7 weekends, finishing with Winners Dog and Best of Winners for a 5 point major under a breeder-judge the day before a specialty.
In the two days immediately following completion of his conformation championship, Munchie earned his first two Novice legs in Barn Hunt, and just a week later, he finished his Rat Novice title and earned his first Open leg. In his first two barn hunt weekends, Munchie earned four legs with two 2nd places and one 4th place along with 100 total points toward his first Crazy 8s title. July 2, 2021, Munchie completed his third title in three weeks when he finished his BCAT title for FastCAT. Munchie began the journey for his AKC Grand Champion title in May 2022, completing it in August 2022 with multiple Best of Breeds and a Bred-By Exhibitor Group One along the way. He debuted in UKC conformation with a Best Male, Best of Winners, Best of Breed, and Gun Dog Group Two.
Munchie has been hunted on goose, pheasant, dove, and squirrel. He finished his DCAT title during the Spring of 2023 and is one Q shy of his RATO title. Munchie has also been introduced to agility foundations and is currently competing in AKC and NACSW scent work.
We are so grateful to Saga's people, Susan Norras and Deb Gibbs, for making this breeding happen! We're thrilled to welcome our good friend Kari of Stoic Gun Dogs to Munchie's team, and we can't wait to see what life has in store for "the floof"!

Munchie's Pedigree
HR AKC GCH/NSDTRC CH Foxvale's And The Story Continues OA NAJ SH RAE CDX GO WCX SS SG VCX TT

ADCH PDCH SHR AKC/NSDTRC CH Foxvale Sailn The Tradewinds MX MXS MXJ MJS JH CD RE XF VCX SACH TMB JM SCH RM GM PSM PJM PGM PKM PSCH PTM PKM EAC ECC NATCH

Am/Can/NSDTRC-USA CH. SHR Vesper Mariner Coupe De Vale JH AX AXJ WCI VCX ROM

Foxvale's Affair To Remember MX AXJ

AKC/NSDTRC-USA CH Beinnbhreagh Christmas Gift At Foxvale WC

Beinnbhreagh's Prince Peter

CH Beinnbhreaghs Canadian Idol

AKC GCHB, UKC CH Maetoll's Bad Example for FowlShot, CGC TKI RI BN BCAT RATN

SHR Maetoll's Wicked One, CGC

CH Seastar's Sir Winston

CH Foxvale's Embers of Maetoll, CGC

GCH CH Beinnbhreagh's Beautiful Disaster, WC

Beinnbreagh's Prince Peter

Beinnbhreagh's Madison Gardens

Munchie has been DNA tested as N/N for Chondrodystrophy (CDDY) along with normal (clear) for Progressive Retinal Atrophy (PRA), Juvenile Addison's Disease (JADD), Cleft Lip / Palate / Syndactyly (CLPS), Degenerative Myelopathy (DM), Cardiac Laminopathy (CLAM), Cerebellar Degeneration-Myositis Complex (CDMC), and Degenerative Encephalopathy (DE). He has been DNA tested as a carrier for Cleft Palate (CP1) and Buff (Dilute / D-locus). Munchie has been DNA tested as At-Risk/Affected for Collie Eye Anomaly with OFA CAER normal eyes (2020), assessed by a board-certified veterinary ophthalmologist at 8 weeks of age, and OFA CAER normal eyes with breeder option: distichiasis (2022 and 2023).
Munchie also has OFA good hips, normal elbows, and normal basic cardiac (2023) as evaluated by a board-certified veterinary cardiologist.
Munchie's health testing results may be viewed through OFA by clicking HERE.