AKC Multiple Group Placing, UKC Group Placing
AKC GCHB, UKC CH Maetoll's Bad Example for FowlShot, CGC TKI RI BN BCAT RATO
"Pistol Annie"
2016 BYC Best of Opposite Sex
2017 AKC #19 Toller / #5 Toller Bitch (All-Breed)
2022 UKC #8 Toller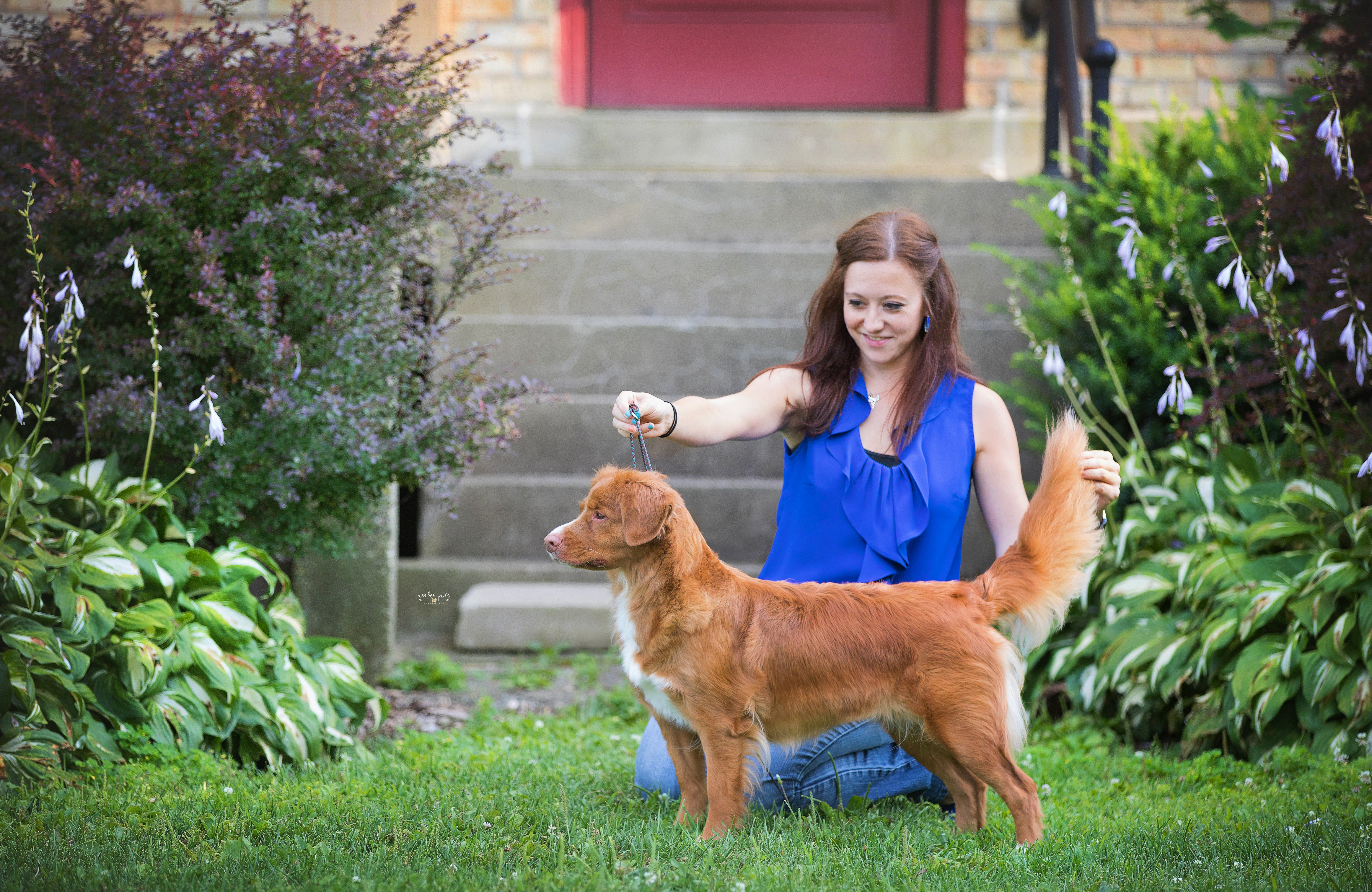 SHR Maetoll's Wicked One, CGC x NSDTRC-USA CH./AKC GCH. Beinnbhreagh's Beautiful Disaster, WC
Bred by: Amanda & Michael Eakins and Kelly Schur
After Kelly and Avery's success together in the specials' ring during the spring of 2014, Avery retired to motherhood. The hope was for a redhead as sound and typey as her mother... enter Pistol Annie! Aptly named for her spunk and as a tribute to her grand-dam Annie, this girl does everything with a bang! Pistol earned her championship title quickly in very limited showing, earning her first major by winning Best of Breed over specials from the puppy class and finishing with back-to-back five point majors from the Bred-By Exhibitor class. In her first weekend out as a special, she was awarded back-to-back majors towards her Grand Champion title.
In early 2016, Pistol proved that she is more than just a pretty face, earning her Canine Good Citizen title at just 18 months old.
Pistol finished her Grand Champion title in the summer of 2016 with several Best of Breed accolades. Following in her mother's footsteps, Pistol was awarded Best of Opposite Sex at the July Backyard Classic Supported Entry. This was the largest ever BYC entry with over 90 Tollers competing! Thank you Mr. Donald Sturz, Jr. for recognizing our young girl in such an outstanding group of Tollers!
Easter weekend 2017, she earned her very first group placement breeder-owner handled by Kelly. Our appreciation to Ms. Peggy Beisel-McIlwaine for recognizing Pistol with a Group Four in an incredibly strong midwestern Sporting Group! Pistol became a multiple group placer in September with another Group Four under Ms. Heather Langfeld of Ontario, Canada!
Pistol finished 2017 as the #5 Toller Bitch and #19 Toller overall (Canine Chronicle, All Breed Stats), earning her Grand Champion Bronze title to boot.
Having accomplished more than we could have ever imagined in conformation in a relatively short amount of time, we're turning our attention to performance... and in true Pistol Annie fashion, she's started her performance career with a bang! In her first trial, Pistol earned back-to-back Rally Novice legs with a 94/100 second place and perfect-100 first place! Pistol also easily earned her Trick Dog Novice and Trick Dog Intermediate titles and has since added Rally Novice, Rally Intermediate and Beginner Novice obedience titles to the end of her name. She also completed her BCAT title at 6.5 years old on the same day that her son completed his BCAT! As a veteran, Pistol has recently begun her journey into the world of barn hunt, earning her first two RATN legs with 1st place wins in her class! She finished both her Novice title and Open title with additional placements.
Pistol Annie is Kelly's personal duck and dove hunting dog, also dabbling occasionally in goose and pheasant hunts.
Thank you very much to Mandy and Mike Eakins of Maetoll Retrievers for their friendship and mentorship and for allowing Kelly to be a part of this breeding! The best is yet to come...

Pistol's Pedigree
SHR Maetoll's Wicked One, CGC

Ch. Seastar's Sir Winston

Ch. KD's Cedar Shavings, WC

Ch. Driftwood's Rose, WCI JH CD VC

Ch. Foxvale's Embers of Maetoll, CGC

SHR Ch. Foxvale's Lennoxlove Patriot, WC ROMX

SHR Ch. Firebrick's Anchors Away WC CD OA OAJ RA JH VC

GCh. Beinnbhreagh's Beautiful Disaster, WC

Beinnbhreagh's Prince Peter

Can. Ch. Beinnbhreagh Silver Lining

Beinnbhreaghs Victoria Secret

Beinnbhreagh's Madison Gardens

Can. Ch. Beinnbhreagh Silver Lining

Beinnbhreaghs Victoria Secret
Pistol's health testing results may be viewed through OFA by clicking HERE.
Pistol is OFA CHIC #122924.
Pistol has been DNA tested as N/Y for Chondrodystrophy (CDDY), normal (clear) for PRA, carrier for CEA, probable carrier for JADD, and normal (clear) for Degenerative Myelopathy. Pistol has OFA good hips, OFA normal elbows, and OFA CAER normal eyes (2017 & 2019), and OFA normal patellas as evaluated by a veterinary practitioner.