DualShot's High Times at Claddagh, JH NA1 DMA DSA
"Potter"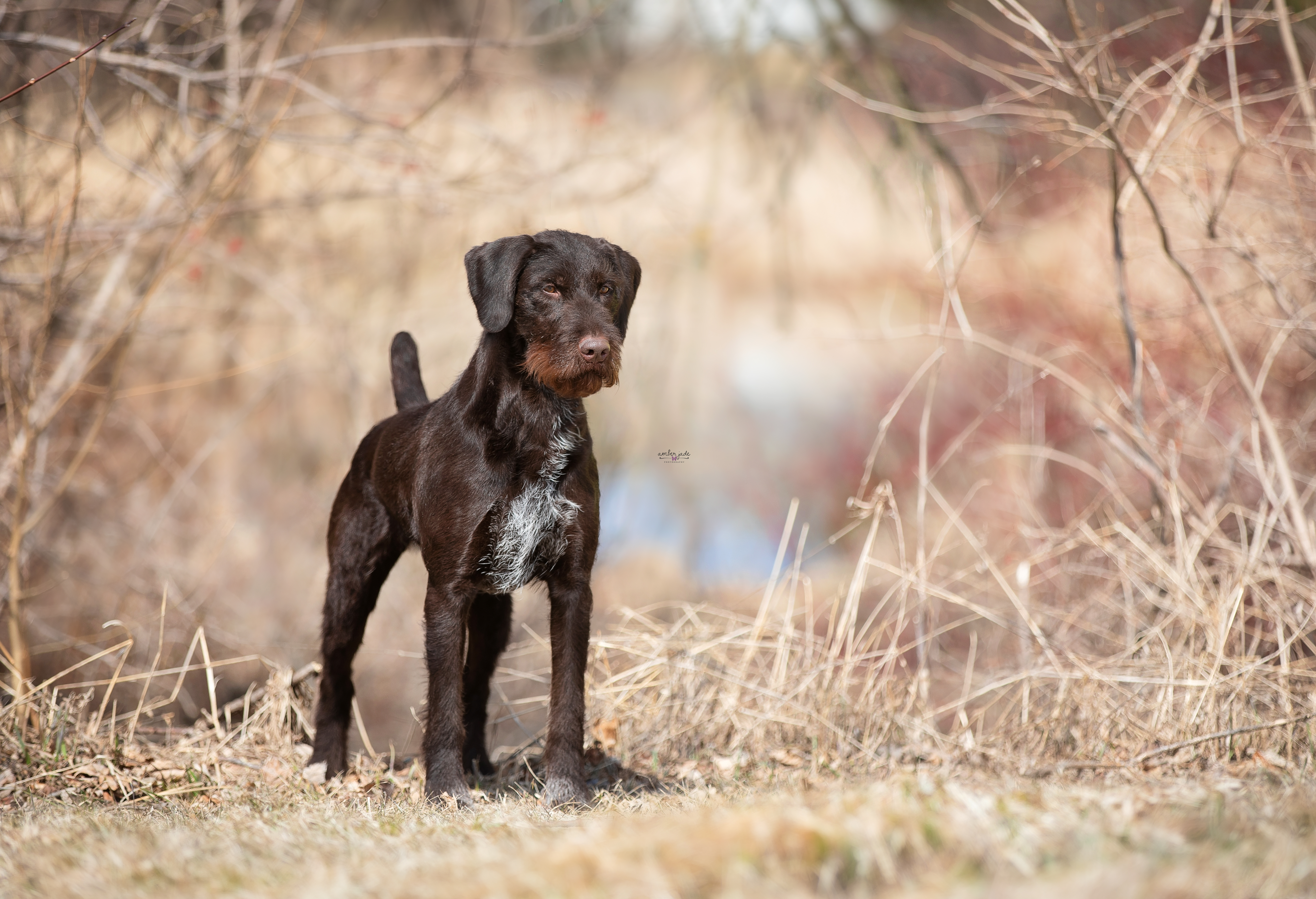 UK SH. CH./US CH. Kimmax Bourbon, UT1 x NFC DC AFC Dual Shot's Flying High, MH NA1
Bred by: Karla Hawkins
When looking for a wirehair to join our crew, we agreed that two things took precedent over all other considerations: temperament and hunting ability. Potter surpasses our expectations in both! With her happy-go-lucky attitude, incredible intensity in the field, and correct close-fitting harsh coat, we are excited to see where she takes us! We are indebted to William and Courtney Bastian of Claddagh German Wirehaired Pointers for allowing Potter to join our household from theirs and to her breeder, Karla Hawkins, of Dual Shot German Wirehaired Pointers for her stamp of approval.
William and Courtney gave her a great start with a NAVDHA Natural Ability Prize 1-112 (perfect score) at just 17 weeks old, field trial points toward her FC title as a juvenile, Junior Hunter title, and wild bird hunting all before a year of age. Potter also has multiple points in the conformation ring.
During her 2019 "summer vacation" from bird work Potter tried out dock diving for the first time. In true Potter fashion, she gives her all every time she hits the dock! In less than two months of competing, Potter earned her Dock Senior and Dock Master titles as well as an invitation to NADD nationals for winning her division at a "qualifier" event in June 2019. She finished her Dock Senior Advanced title in Fall 2019 and her Dock Master Advanced tile in Summer 2021! In December 2019, Potter, Matt, and Kelly attended their first NADD National Championship, jumping 21'2" (Master) and finishing 77th out of 186 entrants.
Potter's Pedigree
UK SH CH/US CH Kimmax Bourbon, UT1 (imp. UK)

Uri Vom Liether-Moor

Matze Vom Schinkelberg

Ondra Vom Liether-Moor

Joschi III del Zeffiro At Kimmax

Hasso Vom Bruhlwald

Blanka Vom Hatzberg

NFC DC AFC Dual Shot's Flying High MH NA1

DC AFC Dual Shot's Behind Bars UT (ROM Supreme)

DC Wildwings Shameless (ROM Supreme)

Dual Shot's Miss Kitty JH NA

CH Dual Shot's Buffalo Girl JH NA

Bone Point's Boris NAI

CH Magnum Dual Shot
Potter has OFA normal thyroid (2018), OFA normal cardiac (2019), OFA CAER normal eyes (2019), OFA normal patellas, OFA normal elbows, and OFA excellent hips.
Potter's health testing results may be viewed through OFA by clicking HERE.
Potter is OFA CHIC #138636.
AKC Field Trial Statistics
Vizsla Club of Greater Milwaukee - 1st Place Open Puppy - 16 Starters - 2 Points
NAVHDA Statistics
Natural Ability Test - Prize 1 - 17 weeks old
N-4, S-4, W-4, P-4, T-4, D-4, C-4 = 112 Points (Max Score: 112 Points)
Coat: Dense, Medium Harsh
AKC Hunt Test Statistics
Junior Hunter - 4 Passes
Water Test Pass
NADD Dock Diving Statistics
Dock Senior - 5 Legs // Dock Senior Advanced - 30 Legs
Dock Master - 5 Legs // Dock Master Advanced - 30 Legs
Distance Jump Personal Best - 24'3"
2019 NADD Nationals Distance Jump Invitee // #7 GWP Distance (21'2" Season Average)
2020 NADD Regionals Distance Jump Invitee // #5 GWP Distance (21'9" Season Average)
2021 NADD Regionals Distance Jump Invitee // #5 GWP Distance (22'4" Season Average)