UKC Multiple Group Placing, AKC Major-Pointed
UKC CH Foxvale's Cowboy Jedi, TKN RATI DJ BCAT


"Kanan"
2022 UKC #3 Toller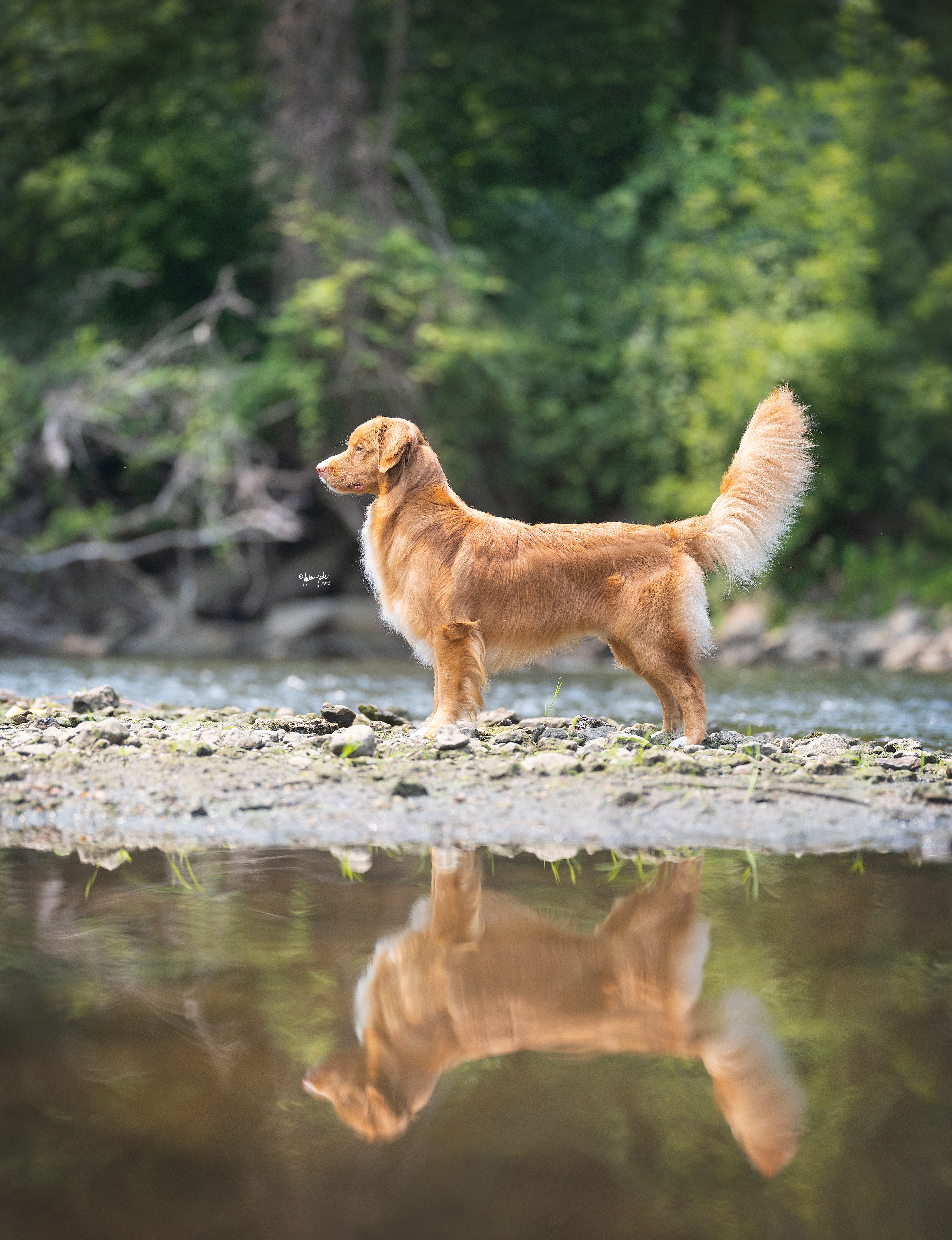 Sire: AKC GCH, UKC CH FoxPoint Maetoll Lollipop Guild, TKN RATN DCAT NW1 SIN SCN SEN
Dam: AKC GCH, UKC CH Foxvale's One Lucky Bug, CGC TKN NW3 Elite, BCAT, RL1-AOE
Bred by: Kristin Heiden and Deb Gibbs
In his conformation debut at a set of UKC shows with his breeder and co-owner, Kanan was awarded Best Male three times as well as Best of Winners and Best of Breed twice, going on to earn a Gun Dog Group Three and Gun Dog Group Four! He earned all three competition wins and 60 of the 100 points needed for his UKC championship. Kanan finished his UKC championship at his second weekend of shows in July 2023 with three Best of Breeds, one Gun Dog Group Two, and two Gun Dog Group Threes. He debuted in AKC conformation the next weekend earning his first major from the bred-by exhibitor class with his breeder/co-owner Kristin.
We couldn't be more thrilled to have a son from Munchie's first litter joining our family! He is residing in South Dakota with Kelly's parents where he will continue to be shown in conformation, compete in a variety of companion and performance events, and be hunted on wild pheasant. He has already been introduced to water and a variety of game birds as well as scent work and barn hunt foundations. During the summer of 2023, Kanan earned his Barn Hunt Instinct title and his first Q in Novice with a 4th place. He was also introduced to dock diving, earning his Dock Junior title in his first event weekend. He completed his final runs to earn his BCAT title in FastCAT the following week!
Thank you to his breeders Kristin Heiden and Deb Gibbs for choosing to use Munchie and for honoring us with the addition of Kanan!

Kanan's Pedigree
AKC GCH UKC CH FoxPoint Maetoll Lollipop Guild TKI RATN DCAT NW1 SIN SCN SEN

HR AKC GCH/NSDTRC CH Foxvale's And The Story Continues OA NAJ SH RAE UD WCX SS SG VCX TT

ADCH PDCH SHR AKC/NSDTRC CH Foxvale Sailn The Tradewinds MX MXS MXJ MJS JH CD RE XF VCX SACH TMB JM SCH RM GM PSM PJM PGM PKM PSCH PTM PKM EAC ECC NATCH

AKC/NSDTRC-USA CH Beinnbhreagh Christmas Gift At Foxvale WC

AKC GCHB UKC CH Maetoll's Bad Example for FowlShot, CGC TKI RI BN BCAT RATN

SHR Maetoll's Wicked One, CGC

GCH CH Beinnbhreagh's Beautiful Disaster, WC

NN AKC GCH UKC CH Foxvale's One Lucky Bug CGC, TKN, NW3 Elite, BCAT, RL1- AOE

AKC GCHP CH/Dan CH/Can CH Pikkinokka's Lightning Bug

AKC/Can Ch Pikkinokka's Ragin' Cajun CGC

Pikkinokka's Water Bug

AKC/NSDTRC-USA CH Beinnbhreagh Christmas Gift At Foxvale WC

Beinnbreagh's Prince Peter

CH Beinnbhreaghs Canadian Idol

Kanan has been DNA tested as N/Y for Chondrodystrophy (CDDY) along with normal (clear) for JADD, PRA, Degenerative Myelopathy, and Buff (Dilute / D-locus). He has been DNA tested as a carrier for Collie Eye Anomaly.